PEPPERONI, the cutting-edge research project focusing on tandem PV technology, generated significant interest and excitement at two key events held in June 2023. The Tandem PV Workshop and Intersolar Europe provided platforms for PEPPERONI's partners to share their insights and innovations, and foster collaborative efforts within the solar industry.
A Glimpse into the TandemPV Workshop
Chambéry, France, June 6–8, 2023: The 3rd International Tandem PV Workshop at the Convention Center Le Manège provided a platform for leading researchers and industry experts to discuss the latest breakthroughs in tandem PV technology. Approximately 200 attendees participated on-site, while nearly 100 joined online.
During the workshop, PEPPERONI project partners, Helmholtz-Zentrum Berlin (HZB) and CSEM, showcased their achievements, with certified efficiencies above 30% in small-area tandems. The presentations predominantly focused on materials and process improvements, underscoring the community's dedication to pushing the technology further. During the "process and upscaling" session, Prof. Stannowski from HZB presented results achieved with the Koala cluster tool, a process flow of high industrial relevance developed within the PEPPERONI project. Dr. Fabian Fertig from Qcells discussed the continuous progress of silicon PV technologies, stressing the importance of building customer trust on stability issues in perovskite-based technologies to enable widespread adoption in the future. Dr. Fertig also contributed to a panel discussion on "Challenges and Opportunities for Industrial Tandem Technologies".
FOM Technologies, another PEPPERONI project partner, showcased their slot-die coater at the workshop, a tool that will undergo further development to fit PEPPERONI's pilot line requirements.
The high technology readiness level (TRL) targeted by PEPPERONI garnered significant interest from the audience.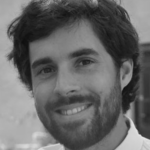 The lab demonstrations of the technology's potential have prompted the community to recognize the project's importance in addressing key challenges, such as scalability and reliability, before commercialization. – Quentin Jeangros (CSEM)
Intersolar Europe from an industrial perspective
Munich, Germany, June 14–16, 2023: Intersolar Europe, a premier gathering of manufacturers, suppliers, distributors, service providers, and developers in the solar industry, provided an ideal platform for PEPPERONI to make its mark. The project was represented by its active participants, Qcells, Teknisolar, Mondragon Assembly, HZB and Von Ardenne, who engaged visitors in enlightening discussions and exciting exhibits.
To start with, our technology development lead, Qcells presented a whole range of solar solutions, including next-generation solar panels and financing packages for private households and small businesses. Not to forget the key interest to PEPPERONI, an outlook on tandem solar cell technology.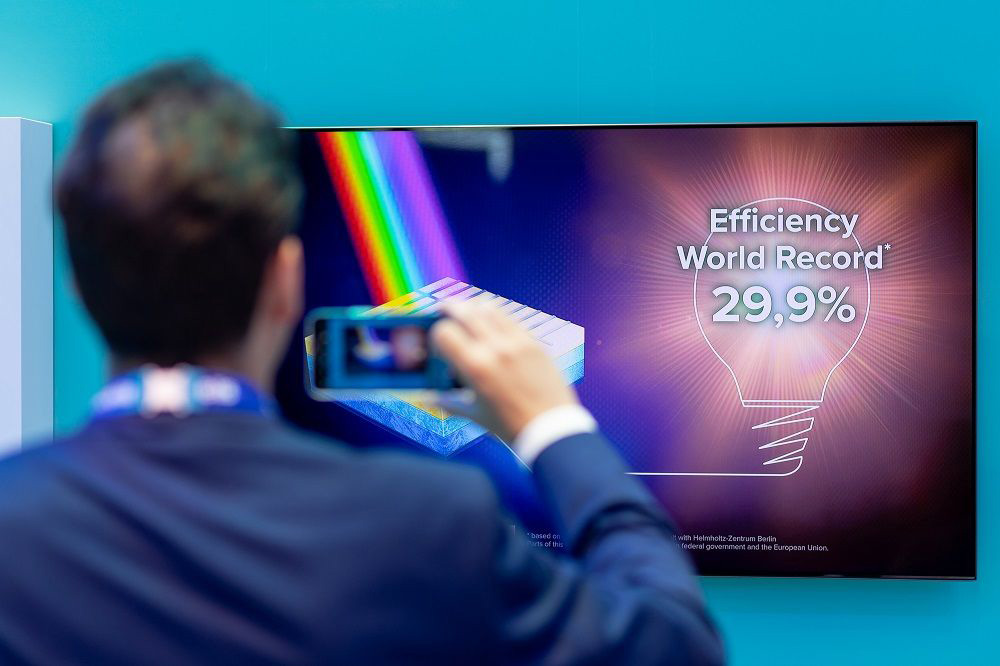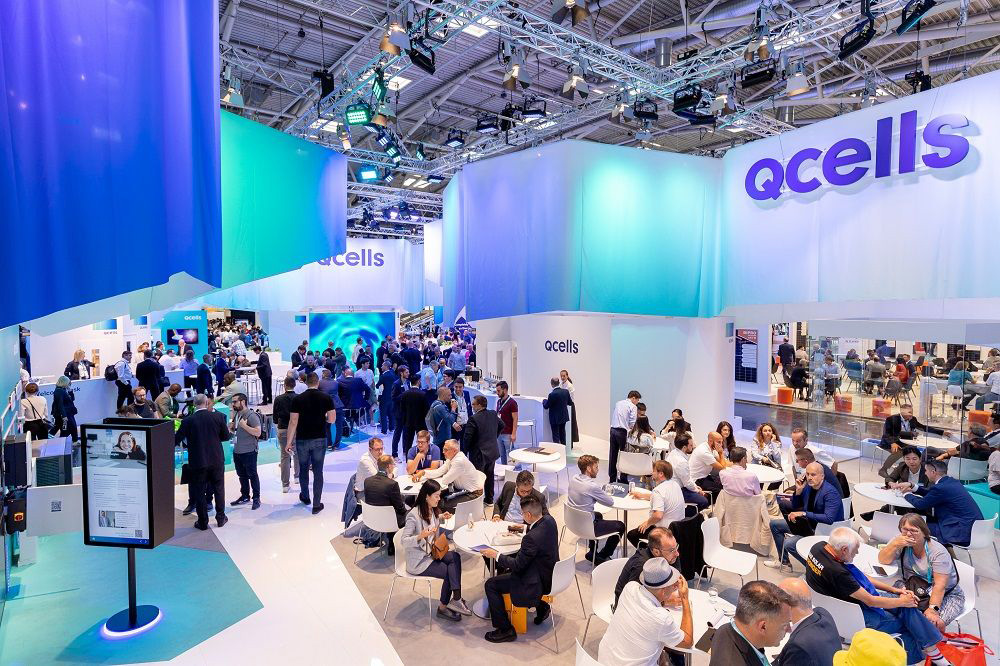 Mondragon Assembly's booth showcased the commercial products with the electrically conductive adhesive (ECA) ribbon interconnection, a precursor to the interconnection solution developed within PEPPERONI. Visitors to the booth had also an opportunity to ask questions about solar mini-modules presented with the PEPPERONI logo. These mini-modules have been processed with the solar stringer machine, an assembly equipment of high sensitivity used to solder solar cells, an equipment piece developed by MASS for the project. PEPPERONI's innovative approach, particularly the ECA interconnection with round wires, drew substantial interest, with over 120 visitors actively engaging and expressing enthusiasm for the project's cutting-edge technology.
The Intersolar exhibition has been a success for Mondragon Assembly, with a full booth during the three days, and lots of fruitful meetings. It's a clear indicator of the developments in the PV market at the European and global levels. – Xabier Sabalza (Mondragon Assembly)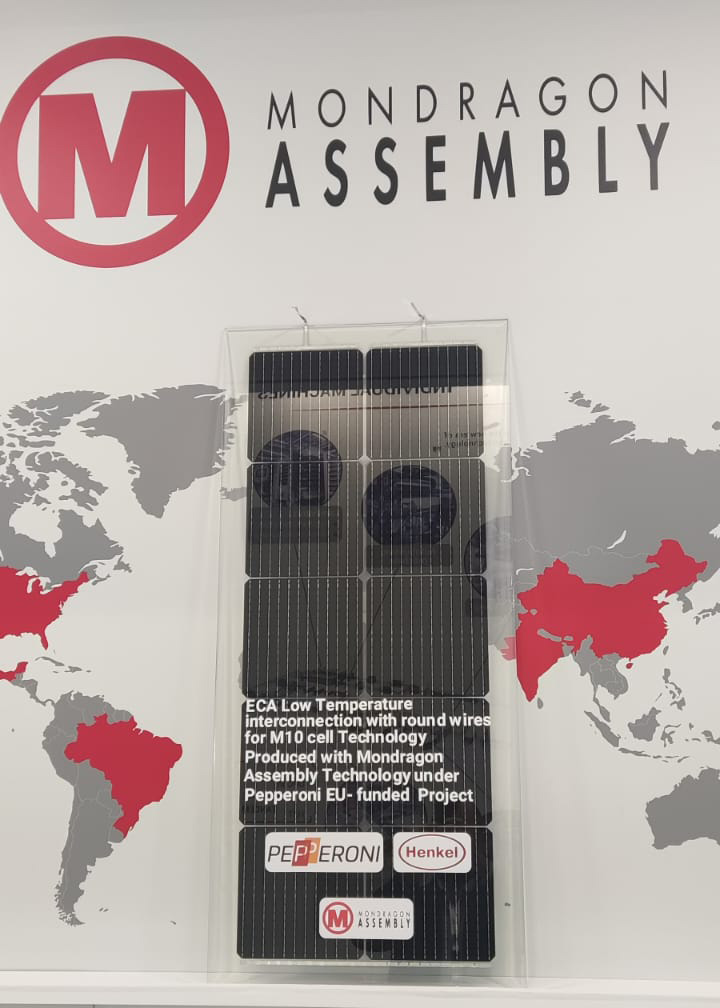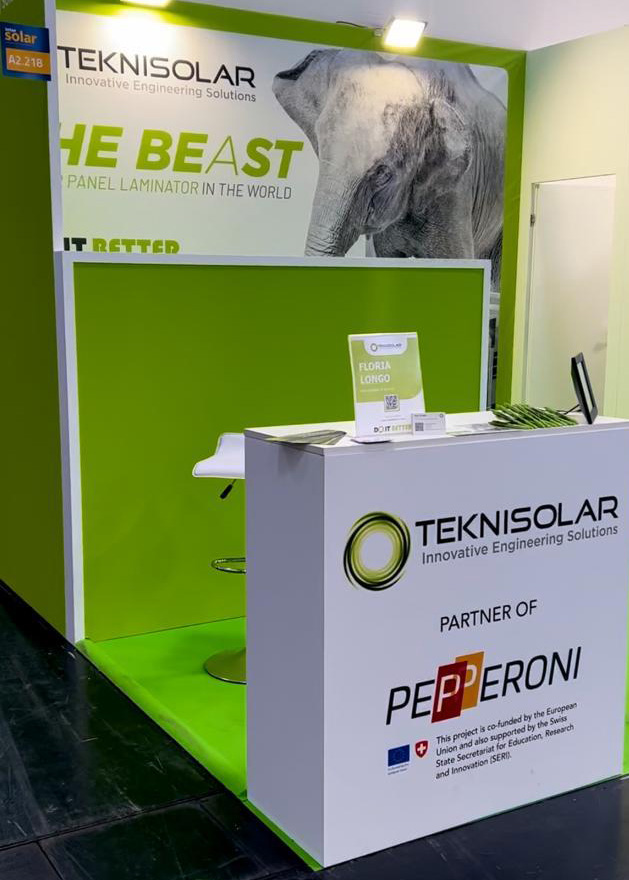 Teknisolar, another member of the PEPPERONI consortium, welcomed approximately 120 visitors to their booth at Intersolar Europe. These visitors sought to delve deeper into the benefits of solar tandem technology and learn more about the project.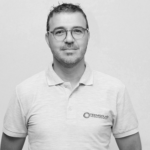 The event proved to be three exciting days filled with inspiring conversations, innovations, and new business opportunities. We report particular interest from BIPV module manufacturers. The main trends point to roof applications such as Roof Tiles and Bifacial for Utility Scale. – summarises Oscar Travaglini (Teknisolar)
Intersolar proved to be also an excellent occasion for PEPEPRONI partners to meet and discuss the advancements of the project. Numerous consortium members visited the event to stay up to date with the latest innovations in solar technologies.
It is worth noting that LONGi Green Energy Technology unveiled their latest achievement at Intersolar Europe – perovskite/silicon tandem solar cells boasting an efficiency of 33.5%. These tandem cells made their debut at LONGi's booth, marking a significant milestone for the industry. The increasing investments in tandem technology development harmonize well with PEPPERONI's objective of enabling the widespread adoption of tandem cells and module manufacturing in Europe, reflecting the project's alignment with the global PV industry.
As PEPPERONI continues its work, it encourages professionals and PV enthusiasts to follow the project on social media and visit the website for the latest updates and developments.